Food labels are price sensitive due to the share of volume they represent in the market and short lifetimes. Hence a lot of paper based materials are used and they have a specific requirement to be food safe. No brand owner wants to take the risk of a product re-call which does not only represent a high cost but also damages the brand identity.
Self-adhesive labels as such (aka 'pressure sensitive labels' or PSL) are made by printing onto a laminated construction of 3 layers: a release liner (otherwise known as the backing paper, carrier or glassine), a layer or adhesive and the facestock material. The laminate is printed and then converted in a roll containing the requested number of labels per roll. A web-fed process brings a high label application speed on the packaging line and allows for more embellishing processes. In addition, its flexibility of application is enormous, either during or after the filling process and on any type of surface/container just by taking another glue.
Production details
Here you can see a self-adhesive food label sample printed on a Xeikon CX500 digital press.
Print dimensions: 50 x 112 mm
Substrate: Paper based laminate
Toner: Food-safe Cheetah toner
Finishing: Xeikon Dcoat Series, offline die cut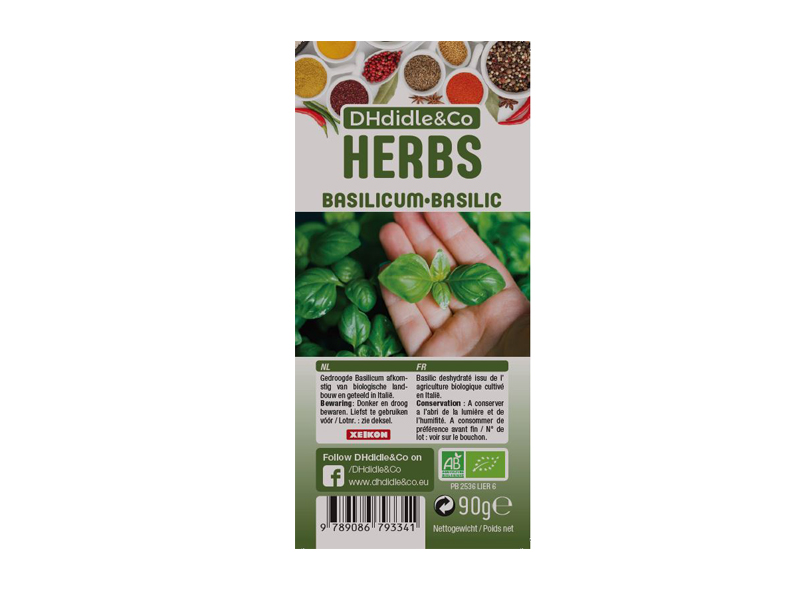 The Xeikon CX500 has been the press of choice due to its quality level provided by the 1200 dpi print resolution. Productivity gains because of its web width allowing for multi large sized label across the web and through the printing speed of 30 m/min (98 ft/min).
Sample of a digital printed food label
What is the value of digital printing?
More varieties drive the run lengths down in the food industry and create a need for more cost-effective production methods.
Furthermore digital printing with Xeikon offers:
the most food-safe solution in digital printing with its dry toner
ability to match your color between digital and conventional with Xeikon color services
inline varnish solution to verify if 'the' color (brand colors) match the expectation of the customer
Which is the preferred digital press for self-adhesive food labels?
The Xeikon CX500 digital label press. The outperformer of all high quality dry toner digital label presses in terms of productivity, thanks to its unique web width (up to 520 mm/20.47") and its full rotary printing with speeds at 30 m/min (98 ft/min):
dry toner technology: the most food safe solution on the market allowing printing on standard label materials, minimizing the cost of the substrate
520 mm/20.4" web width: ensures productivity and provides a digital complement to conventional printing by using the same finishing process
roll-fed printing: ensures higher productivity and reduces the material waste
high quality printing: 1200 dpi allows to achieve offset quality level or beyond
Which is the preferred digital production solution?
A roll-to-roll line including a Xeikon CX500 digital label press, a Web Varnishing Module which adds a high-quality UV or water-based coating for protection. Doing this inline will allow for immediate color check and take action should these be required. It is our complete digital printing solution, which comes with all the necessary components for seamless digital label printing.